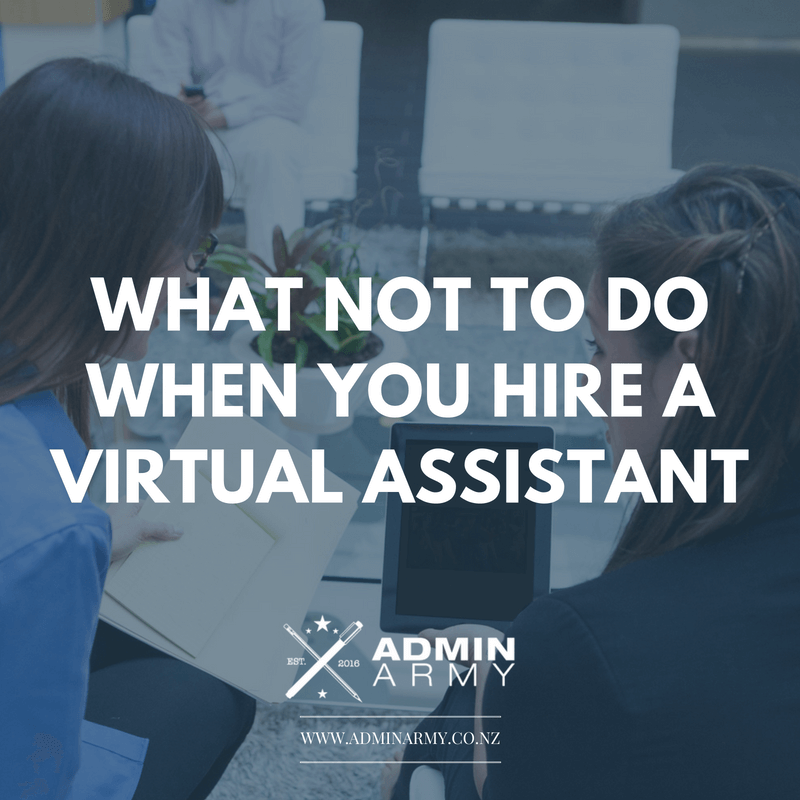 What Not To Do When You Hire A Virtual Personal Assistant
There are plenty of great articles out there about how to find a virtual personal assistant and what to look for in a virtual personal assistant, but what we sometimes forget is that there are two parts to this relationship.
Just as everyone has heard horror stories about working remotely with virtual assistants, there are from time to time some pretty average clients out there too. (We're lucky here at Admin Army that all of ours are absolute rockstars!!!!)
Here is our guide of what not to do as a client:
Don't expect your virtual personal assistant to be a mind reader
Tell us as much as you can!
We operate as your right-hand, your virtual personal assistant and we pride ourselves on being good at a lot of things.  However, mind reading isn't one of them! Our goal is to deliver what you want, which we can only do if you tell us. So, communicate, communicate, communicate!
We want to hear it all:
The vision you have in your mind
The goals you have for your business
The outcome you would like to achieve.
The more you tell us, the better we can do our job, and the more stress-free the whole process will be for you.
Don't expect your virtual personal assistant to be able to do everything
It's better for you if we stick to what we're good at
Some service providers specialise in bookkeeping, others in working as remote personal assistants taking care of your admin, or marketing, or graphic design. There are a range of service providers out there that you can outsource to, but the likelihood is that the person you decide to work with, isn't going to be able to do it all.  Figure out what you need help with, and find the best fit for you.
Here at Admin Army, we focus on bookkeeping and general administration assistance – so if you're looking for a brand makeover, you probably need to engage with a graphic design specialist.
Don't make up answers
The truth is always better
You know the saying 'fake it 'til you make it'? Yeah, don't do that when we're talking about your business! We're not someone you need to impress; we're someone who needs the truth so that we can do our job well.
If you're not sure where that receipt it, let us know
Or maybe you don't know what font you have on your business card, but that's ok
Perhaps you can't remember your password for that Pinterest account you started years ago… no problem.
Nothing can't be solved when we work together. We're not going to tell you off (we're not your Mum!), but without all the information, we can't help you achieve your goals.
Don't expect the impossible
Let's work together to manage expectations
One thing that's important to remember is that we are contractors, not employees. If you're used to dealing with a personal assistant who is a staff member and sits outside your office, you may have an expectation that they are available to you every day between business hours. With a virtual assistant, you can't (unless that's part of your contract of course!). Generally, we will have a variety of clients with different needs and timeframes we're working to. For Admin Army's clients, we aim for a 48-hour turnaround on any work, but please don't email us at 4pm on a Friday and expect to have the work completed by the end of the day.
Don't be vague
We need all the information
This one is all about saving you money. The more clarity you can have around what it is you want to be done, and what your budget is, the more chance there is we can stick to that. The vaguer you are, the more likely we are to spend time and money you don't have. Have an honest chat about your budget and your expectations – we love these talks because it means we're all on the same page.
Don't worry about our feelings
Give us feedback
Our goal is to deliver the best outcome for you and your business. If we produce work for you and it's not quite what you want, let us know. It's only with your feedback that we can continue to improve the service we offer you. We want you to be satisfied and happy with the results we're delivering, so don't worry about offending us, just give us the truth!
Don't leave us hanging
Know what's next on your list
We love it when you have a list of tasks for us to tick off. While we're always more than happy to do one-off jobs, if you have a virtual assistant on a retainer for a monthly package, you're going to want to make the most of those hours. If possible, think ahead, make lists and have a plan of attack for all those tasks you want to get done. That way when we're finished with the first thing, we can quickly move on to the next, giving you better value for money.
Don't focus on price
Focus on value
Virtual assistants can vary in price, based on a number of factors including location and experience. Don't choose your virtual assistant purely based on price. You get what you pay for – cheapest usually doesn't mean best!
Don't let us feel like we're valueless
Make us feel like a part of your team
The way to get the most out of your virtual assistant is to make them feel like they're part of your team. Get them invested in your business and they will work wonders to help your growth. At Admin Army, we invest our time and energy into your business and growth so we can help you achieve your business goals. We want to become a valuable team member and a key stakeholder … that's how we will serve you the best!
We've given you a lot of things NOT to do, but here's what you should do when you hire a VA:
Communicate well with them
Choose someone who fits your needs
Let them know the truth
Effectively manage your expectations
Be clear and concise
Give them feedback
Have a plan and know what's next on your list
Choose your Virtual Assistant based on value, not price
Bring them into your team
We find that when working with clients who nail the above, we work at our best and their businesses flourish.
Want to find out what working with a great virtual assistant team is like?