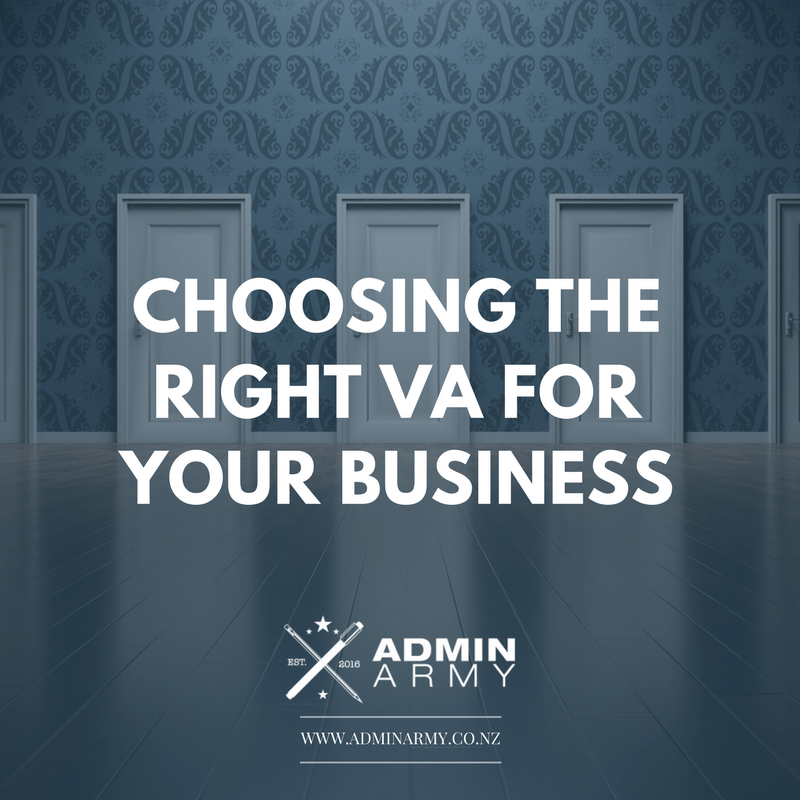 How To Choose The Right Virtual Assistant
How do you choose the right Virtual Assistant?  Google 'Virtual Assistant NZ' and over 800,000 hits come up.  It can be overwhelming, so how do you know where to start when searching for the right person or team for you?  A good Virtual Assistant is going to be a key part of your team; someone who will make your workload lighter and enhance your business.  Here are our recommendations for finding the right Virtual Assistant for you.
First of all … what is a Virtual Assistant?
A Virtual Assistant is just that … an assistant who works virtually.  They don't come to your office, they work remotely, and take on the tasks that you don't have time to get done.  Each Virtual Assistant's expertise varies, but here at Admin Army, we do everything from bookkeeping to administration tasks; email marketing, writing, content management and other general administrative tasks.  Rather than hiring an employee to work within your business, you can hire a Virtual Assistant on a monthly contract for a set number of hours, or a casual contract, and they help you to work on in your business … just remotely.
Here's how to choose the right virtual assistant for your business:
1. Clarify Your Situation
Decide what to outsource: the options are endless. If there is something that is taking time away from your working on your business, it might be time to get a Virtual Assistant. Not sure where to start? Check out our 101 Things to Outsource blog to get some ideas.
Prioritise: once you have a list of tasks you want to outsource, prioritise them and decide whether you have deadlines for these tasks.  Our FREE 'what tasks to delegate' worksheet will help you figure this out if you're stuck.
One off or Ongoing: consider whether these are one-off tasks or whether you will have ongoing work for your Virtual Administrator.
2. Refine your needs
Once you have a comprehensive list of tasks, it's time to get a bit more specific on the who.
Virtual Assistants often have a range of skills, so think about not only what your business needs now, but what you may need in the future.  For example, if you are just starting out, you may be doing your own accounts now but as you grow you may want someone who can take those on too.  In that case, it would be ideal to take on a Virtual Assistant who can add your bookkeeping to their task list when the time is right.
How much time do you want to allocate each week or month for your Virtual Assistant?  Do you want to go on a monthly contract or are you happy paying casually for the hours you need?
What is your budget?  You will want to have an idea in mind before you start on the next step.
3. Do Your Research
Now's the time for the hard questions.  When you start talking to Virtual Assistants you will be clear on what it is you're after, your budget and timelines, and the skills you are looking for.  Here's a list of things to consider:
Get Recommendations

If you're not sure where to start, ask around.  Talk to other business owners, ask in Networking Groups, post on Facebook and get recommendations for Virtual Assistants that others have worked with.
Relationship Building

Find someone you click with and that you can build rapport with easily.  This is someone you'll be engaging with on a very regular basis.  You want it to be someone you get along with and trust to get the job done to the highest standard every time.
Professionalism and Communication

How long does it take them to respond to your enquiry, to send you information they promise, and to return your voicemails?  This will be a good insight into your working relationship.  If you will be working with a specific Virtual Administrator within the company, ask if you can talk to them first before making any decisions.
Flexibility and Systems

You want someone who has both.  The flexibility to work to your expectations and needs, utilizing the resources that work best for your company and offering solutions to your problems.  You also want someone who has strong systems in place already, who can introduce you to new ways of doing things so you're working smarter not harder, and who knows what's happening at any given point (and when it needs to be done by!).   It's also great to know how your tasks are tracked and how billing is recorded so you know what you can expect.
Skills and Experience

Think back to those skills you decided you needed.  Ask your shortlisted favourites how they align with those required skills.  Depending on their answers, make sure you're future-proofing yourself with any skills you may need in the future.
Testimonials

Ensure you ask for references from current or previous clients.  See if you can contact them directly to discuss their experiences.
Security

Chances are, in order to work effectively you're going to need to hand over some passwords, set up logins to key pieces of software and make your Virtual Assistant privy to confidential information.  Find out what their security plan is and how they can ensure your information stays in the right hands.
4. Recruit to your Team
Once you've found the perfect fit for your business, it's time to make that connection and get things started. Watch how quickly you gain time back by not having to deal with the small tasks that take time. Before you know it you'll be back looking at the big picture and seeing your business grow.
Want to have a chat about how one of the Admin Army team can support you as your Virtual Assistant?  Get in touch to book your FREE, no obligation discovery phone call today!