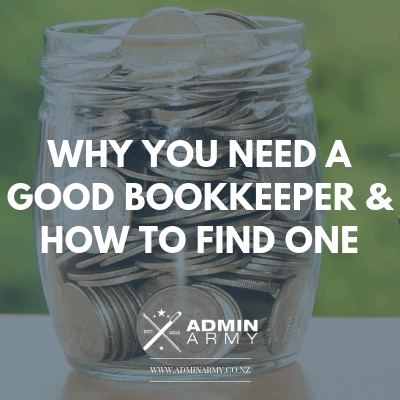 Why You Need Good Bookkeeper And How To Find One
Do you know what makes a good bookkeeper?
Like a really good one. Not just one that is alright or that will pass in a pinch. But one that will make your life easier and your finances a breeze.
The criteria for a good bookkeeper is quite in depth. Unless you tick these aspects off your list, you might find yourself with one of the mediocre ones.
Hiring a bookkeeper is not a task that should be taken lightly.
You are entrusting one of the most crucial aspects of your business to someone – your finances. Because of this, you should take the time to ensure you don't just opt for someone who can get the job done, but hold out for someone who can get the job done to a high standard.
Finding yourself a great bookkeeper (instead of settling for a good-enough bookkeeper) will save you precious time and money. It will even help your business grow and succeed!
Whether you want to know if your current bookkeeper cuts the mustard or are curious about what to look for when hiring a new one, we can set you on the right path.
So, what are the signs of a good bookkeeper?
They Have Experience
While you may think you are saving yourself some money by hiring an inexperienced, cheaper bookkeeper, in reality, you are not doing your business any favours. Experienced bookkeepers may have higher rates, but they can do the job in a fraction of the time of a newbie. They know all the ins and outs of the job and can get it done efficiently and accurately.
Would you rather pay a lower rate for five hours of work or a higher rate to someone who can get it done in one? Plus, you can be certain that the job is done right.
They Make An Effort To Understand Your Systems And Processes
Great bookkeepers understand that every business is unique, so they don't jump in and assume they know how you operate. When you hire them, they will take the time to understand your business, processes and systems. They will also get a feel for the way you and your team work.
Even better, an experienced bookkeeper will offer advice on these systems if they can see ways to streamline or simplify them.
They Ask You Questions
Quality bookkeepers are well aware of the pitfalls of making assumptions about your finances and business. As well as working to understand how things work, they aren't afraid to ask questions to clarify details in order to do a better job for you. Misunderstanding your incomings, outgoings, categories and systems can be a costly mistake.
A little word of warning. Instead of being irritated if your bookkeeper touches base to ask you a question, be grateful they are wise enough to do so!
They Communicate Well
Any successful team needs to communicate exceptionally well. As we have mentioned above, your bookkeeper should be learning about your business, asking questions, and keeping in touch with you regularly. You need someone who responds to your emails or phone calls promptly and communicates the information you require quickly and clearly.
Don't forget that your bookkeeper will also be liaising with your accountant to keep your finances in order. So it is essential that they have excellent communication skills. At tax time, miscommunications (or lack of communication) between you, your bookkeeper and your accountant can turn into costly and time-consuming problems.
They Offer Solutions To Problems
A good bookkeeper will spot problems and let you know about them. A great bookkeeper will find problems, anticipate problems, and come to you with solutions instead of just dumping the issues on your already full plate. They will provide you with the financial expertise that you need to run your business smoothly and profitably.
They Know Their Limits
As experienced as your bookkeeper is, they will have their limits when it comes to handling your finances. At some point, you will need your accountant to deal with higher-level reporting and planning. A great bookkeeper understands this and knows what they can and should handle. They aren't afraid to let you know when something is outside their sphere of experience or expertise.
A good bookkeeper will do all the groundwork to ensure your accountant can complete the high-level financial work to keep your business compliant.
They Stay Up To Date
Financial management is not a static subject area. There are constant developments in the digital and tech space, as well as ever-changing legal requirements to deal with. Your dream bookkeeper will continually level-up their skillset. That means keeping themselves up to date with the latest software, IRD regulations, laws and efficiency tools.
A great way to tell if your bookkeeper is keeping up to date is to find out whether they're a member of a professional body such as the Institute of Certified New Zealand Bookkeepers.  If they are, you can be sure that they take their ongoing professional development seriously, providing the best solution for your needs.
You Trust Them
Handing over the financial nitty-gritty of your business to someone requires a high level of trust. You need to be confident that all your details will be kept confidential and all work will be completed to a high standard.
Any time you want to view your books, your bookkeeper should be able to present them immediately. The accounts should be up to date and your bookkeeper should not be defensive about making them available.
Why Do You Need A Good Bookkeeper?
There are many reasons to enlist the services of a bookkeeper. Perhaps you don't have the skills and knowledge to do it in-house, or maybe you've decided it is time to outsource key jobs to enable you to focus more on growing your business (or take a much-needed break!)
Whatever the reason, hiring a good bookkeeper will leave you wondering why on earth you didn't do it earlier! The simple job of outsourcing will become a key part of your business' success.
So where do you find a good bookkeeper?
Right here at Admin Army! We have a team of amazing bookkeepers here to help remove the worry about numbers and to nail your finances. Let us handle the day to day accounting transactions so that you can focus on what you do best.