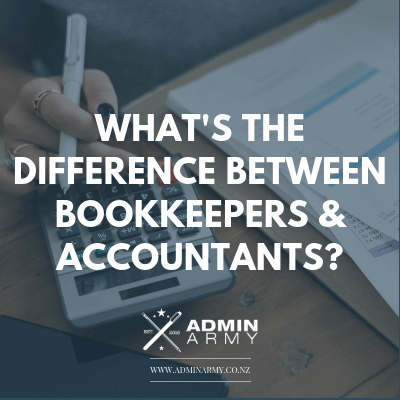 What Is The Difference Between A Bookkeeper And An Accountant?
Numbers. Love them or hate them, they are an essential part of your business success and something you really have to get right.
Accurate financial record keeping and management are the backbone of any successful business, large or small. Keeping on top of the bill payments, invoices, reports, taxes, GST and payroll can be a time-consuming and complicated job.
That is why many businesses recognise financials as an area that they need help.
In fact, it makes good business sense to outsource your financial tasks. That way, it frees you and key staff up to focus on important core business. But who do you outsource to? It can be confusing trying to decide whether you need a bookkeeper, an accountant or both.
The two disciplines do overlap in some ways, but overall, they are quite distinct roles. Let's look at the difference between a bookkeeper and an accountant, learn what their jobs entail, and help you figure out why your business might need one or both.
What Is The Difference?
Bookkeeping and accounting go hand in hand and complement one another. Without accurate, up to date figures and records, it is impossible to maintain your business daily, let alone grow and forecast into the future.
In a nutshell, bookkeeping is about the processing – data entry and maintaining precise financial records on a daily basis. Whereas accounting is analysing, auditing and communicating the data. Good bookkeeping lays the foundation for successful and useful accounting.
While an accountant is capable of doing bookkeeping tasks, most bookkeepers are not qualified or trained to handle complex accounting tasks. Accountants are highly trained, with University degrees and an hourly rate to match that expertise. Using their specialist skills for more bookkeeping tasks is not the best way to spend your money!
Although professional bookkeepers should have a strong knowledge of financial concepts (like the team here at Admin Army), there are no formal requirements for someone to market themselves as a bookkeeper. Although, we highly recommend making sure your bookkeeper is a member of the Institute of Certified New Zealand Bookkeepers.  While this isn't compulsory for bookkeepers, it's an excellent way for you to know they're committed to providing you with accurate bookkeeping. On the flip side, highly trained accountants who are certified as Chartered Accountants with the CAANZ must meet stringent requirements and have years of higher education and experience.
What Does A Bookkeeper Do?
A bookkeeper is a lifesaver when it comes to staying on top of your day to day transactions. A bookkeeper will record all your financial transactions in a systematic way on a daily basis. They will handle data entry tasks like entering and paying bills, recording and processing payroll information, preparing and sending sales invoices, and chasing aged debtors. They can calculate GST and prepare financial statements from the data, as well as reconcile all your different accounts.
Financial software such as Xero and MYOB streamlines bookkeeping work. It helps to keep it secure, backed up, organised and available to share with all who need access. That includes you and your business partners, as well as your accountant.
What Does An Accountant Do?
An accountant analyses the financial data collected and recorded by a bookkeeper. They must have advanced knowledge of accounting principles and requirements, particularly legislation and accepted practices for your industry and country of operation.
They will interpret financial data in order to report back to business owners and boards about performance. Accountants are essential to help you make informed business decisions. By looking at the data and identifying trends, they can help you understand the impact of financial decisions on your business.
Your accountant can help you with taxation planning, provide advice when launching or scaling a business, give advice on superannuation, and help your business come up with workable budgets.
Some accountants may choose to specialise in different areas such as tax or forensic accounting.
Do I Need A Bookkeeper Or An Accountant?
While cloud accounting software makes it easier for business owners to do their own basic bookkeeping, there are still many more effective things you could be doing with your time than fiddling with day to day business operations.
Although you may think you are saving money by doing the job yourself instead of outsourcing, in reality, you are devaluing your own time. As CEO or head of the business, your focus should be on strategy and growth.
Not only that, unless you have a background or training in bookkeeping or accounting, there is every possibility that you could make mistakes which could be costly for your business. A trained professional will get the job done faster than you, and you can trust that they will do everything on time, error-free.
Then there's the enjoyment factor. Not everyone is passionate about working with numbers. In fact, many business owners find it downright boring. Bookkeepers and accountants chose to do it for a living because they enjoy it. Save your energy for the tasks you are drawn to and are good at, and outsource the rest to a professional. This is a great way to avoid burnout – a common complaint amongst business owners who try to do everything themselves.
The same goes for an accountant. A good accountant is like having a trusted financial advisor on your team. As with your bookkeeper, they provide another set of eyes with an unbiased viewpoint to keep tabs on the financial health of your business. Your accountant can help you budget, negotiate taxes, and help keep your business growing and evolving.
Accountants Love Bookkeepers
So are you ready to start focusing on the core tasks in your business? To shake off the burden of trying to muddle through your finances?
Then it is time to give us a call at Admin Army. We are expert bookkeepers, that love to handle the financial tasks that you don't.
And here is a bonus… accountants love bookkeepers. That is because they know that if a bookkeeper has been involved in preparing financial records, they will be accurate. Those records will also contain everything they need to complete your taxes or any report analysis.
That has a positive side effect for your business. It can save you money on your accounting bill as your accountant won't have to charge to fix up errors!
So, are you ready to save time, energy and money? Then get in touch with us here at Admin Army. We take the stress out of finances for both you and your accountant.