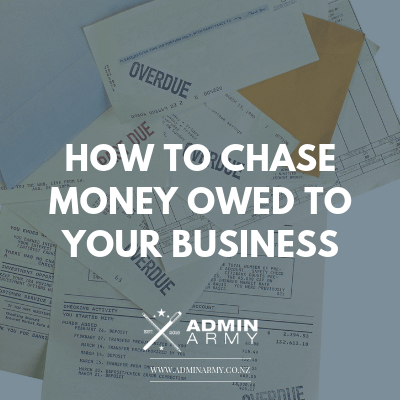 How To Chase Money Owed To Your Business
You do the work, you expect to get paid on time, right?
Unfortunately, in small business, it doesn't always work out that way.
And we know that it's not fun chasing unpaid invoices. Many business owners may feel uncomfortable and worry about upsetting valuable clients. It certainly can put a strain on your sales relationships if you're the one chasing money owed.
Not to mention, there are far more productive ways to spend your time. Nobody needs the stress of wondering how to make ends meet at the end of every month.
In reality, most businesses will face late or unpaid bills at some point. To make the process of chasing money owed less painful, we outline the best practices below. And, we also share some tips on how to reduce the chances of a missed payment.
How To Chase Money Owed To Your Business
Invoice On Time
The first step to getting paid on time is invoicing on time!
Raise and send your invoice as soon as you are able to set a good precedence. If your organisational skills are lacking and invoices are late, your clients may assume that it's okay for them to pay late too.
Sending the invoice as soon as you have completed the work (or on an agreed date), also means the client doesn't have a chance to forget the work you have done. It's fresh in their mind and still relevant to them.
Set Up Automated Reminders
One of the many benefits of accounting software such as Xero is the ability to automate time-consuming processes. Instead of trying to track all your payments manually and figure out who's late, let your software do it for you.
Xero and similar programs can automatically send a payment reminder to clients who have yet to pay.
Separate Sales And Collections
If possible, don't have your salesperson do the follow-ups for unpaid bills. If this is unavoidable, at least use different email addresses for sales and payment reminders. Clients might not open emails they think are from salespeople.
Outsource The Process
Having your bookkeeper take care of late payments is an excellent use of resources. It's their job to keep track of the finances, so you can let them take care of the first steps of the collection process. Having them make the first reminder phone call to the late payer gives a professional, "we mean business" approach.
Ensure Your Credit Terms And Conditions Are Clear
Before you even embark on a professional relationship with a customer or client, discuss your terms and conditions. Have them sign an agreement so that both parties know where they stand and what to expect around invoicing.
Take it one step further by including your terms on every invoice. You should include how long they have to make the payment (when the due date is) and outline any interest or fees incurred for explained delayed payment.
Give The Benefit Of The Doubt
When you first contact someone about money owed or a late payment, be friendly and don't assume the worst. The majority of late payers will probably have just forgotten or have a genuine reason for not paying. Chances are, they will be embarrassed and apologetic when you give them a gentle reminder and pay promptly.
Talk To The Right People
It's easy to ignore an email or letter, but less so to brush off a phone call. If your initial attempts to recoup your money are unsuccessful, contact someone in the billing department. If all else fails, you may need to get in touch with someone higher up to resolve the issue.
Sorting out issues such as money owed and late payments can be frustrating and time-consuming for busy business owners. Outsourcing these tasks to your bookkeeper takes the pressure off you, sets boundaries with clients, and lets them consistently and professionally follow up.
Here at Admin Army, we love to help you get paid on time! Get in touch to find out more about our bookkeeping services. We wage war on late payers and take a stand on your behalf!