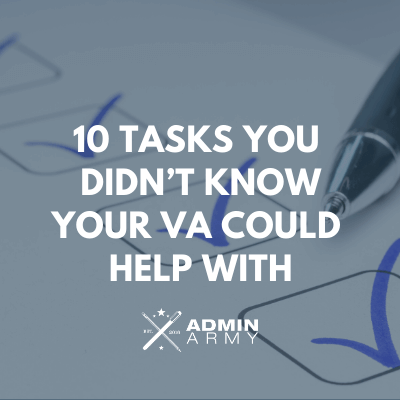 10 Tasks You Didn't Know Your VA Could Help With
Virtual Assistants (VA) are pretty awesome, right?
They save you time, stress and angsting about those boring jobs by just taking them off your hands.
I bet you keep your VA busy with all the usual things – data entry, tidying up your diary, probably loading your blog and pushing send on your newsletter.
But, did you know that your VA can do even more for you?
The more time your VA can save you, the more you get to focus on doing the core things in your business. You know, those things that light a fire inside you and bring in the moolah!
Check out these ten tasks you didn't know your VA could help with (or you may have momentarily forgotten of course!)
10 Tasks You Didn't Know Your VA Could Help With
1: Proofreading
Got a big document or presentation that needs to go out to the masses? Or maybe a super important email. You don't want there to be any spelling mistakes in there! Well, your VA can make sure it is at the super high standard you are known for!
2: Online Research
Launching a new product, sounding out the market, recruiting new staff or just really need to find out about something? Let your VA's super digital skills shine through by getting them to do the research component for you. All the info with none of the time investment!
3: Case Study Interviews
We all know that Testimonials and Case Studies are pure gold for your business. They showcase the positive experience that clients and customers have had when working with you. The words they say are more powerful than anything you can write about your own business.
But, it takes time to conduct those interviews to gather the content for the case studies. And it can be a bit awkward asking people to rave about you while speaking to them yourself! Why not let your VA take the reigns by giving them the questions you want answered. They can then source the info from your clients.
4: Website Updates
Many VAs are technologically savvy and skilled across a number of website platforms. That means they can load new products, update descriptions and events, edit pages, and even create landing pages. That means you don't have to do them yourself, yet still know they will be completed to a high standard.
5: Automation Set Up
Continuing with the tech-savvy theme, your VA can also help you get your latest sales funnel off the ground by setting up the automation aspects and ensuring each part of the funnel connects as it should. Simply provide your VA with the content and that funnel will be up and running in no time.
6: Sorting Systems
Wish you could be more efficient? Well, you can be. With your VA's help of course. Implement a CRM, streamline your processes, categorise your filing system – there are so many ways that your VA can have you saving time and doing things more effectively.
7: Social Media
Social media is a necessary tool, but it is one that can be frustrating. It is affectionately known as the black hole of time! Your VA can get your pages set up and humming with great content. They can then maintain and schedule your posts on an ongoing basis.
It is likely they will be able to write some content for you too (or have someone in their team or network that can).
8: Bookkeeping Services
Most VAs are more than admin superstars. Take the team here at Admin Army, we have comprehensive financial knowledge too. You can minimise communication and connection points in your business by having your VA handle your bookkeeping too.
Did you know that Admin Army won the ICNZB Bookkeeping Business of the Year award in 2019? Yep, that's right, we are more than just Admin!
9: Document Formatting
Whether they are electronic or physical, documents are still an important representation of your business. Poorly formatted pieces don't give the right perception of your professionalism. Instead, let your VA wow your audience with slick, well-created documents that are eye-catching and easy to read.
10: Advice And Connections
This is not technically a job to outsource, but it is a key way that a good VA can help your business. Because VAs work with a wide range of companies, they are really well connected. They can offer sage advice on other businesses that can help you succeed and introduce you to valuable networking connections.  In short, if they can't help you, they'll know someone else who can.
As you can see, a good VA is a valuable asset to your team. They are worth their weight in gold.  There are plenty of tasks that you can outsource and get off your plate.
So, if you are looking for expert help in your business, get in touch with us here at Admin Army today.
Know you need to delegate, but not sure which tasks to start with?