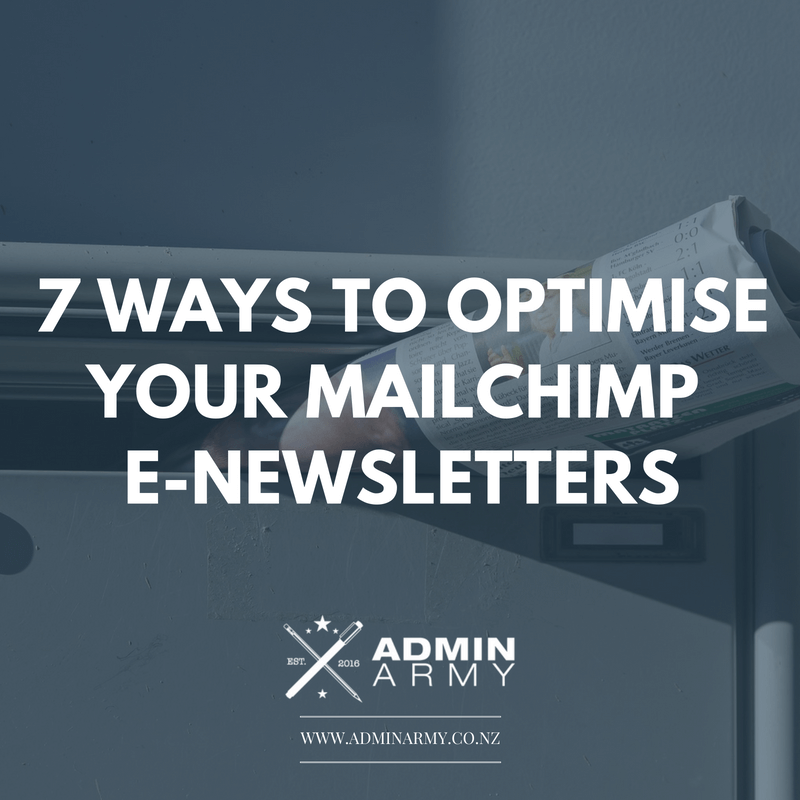 7 Ways To Optimise Your MailChimp E-Newsletters
Do you use MailChimp to send your e-newsletters?
While there are plenty of excellent email marketing systems out there, MailChimp certainly seems to be one of the more popular ones for small businesses.  Email newsletters are an excellent way to regularly communicate with your customers (and potential customers).  MailChimp has plenty of excellent features to help you optimise your e-newsletters and get the most out of your subscription.  Even better, most of these features (below) are available with the free MailChimp subscription.
Here are our top 7 tips to make the most of your MailChimp account:
1. Naming your list
Be thoughtful about the name you give your list. Why? Subscribers can see the list name when you send them emails – if you haven't used an image the list name is used by default if they click on the 'update preferences' or 'unsubscribe' buttons. So be smart – don't name your list 'Potential Suckers'. Keep it relatively generic – or for extra points refer to them as your VIP's.
2. Authenticate your domain and 'from' address.
Check out the last newsletter you received from someone via MailChimp – chances are it shows as some crazy "@mail188.atl61.mcsv.net on behalf of actual sender" email address.  This is because the email clients check the from address versus the actual sender address – and while you enter your from address into MailChimp, it actually gets sent from the MailChimp server (mcsv).
There's an easy fix to this – authenticating your domain from address by making a few changes to your DNS records. Added benefit = this can help ensure your newsletters end up in subscriber inboxes and not spam/junk folders.
Bonus tip to help make sure your emails hit your subscribers inboxes: ask your subscribers to add your email address as a safe sender (maybe when you send your thank you for signing up email). This will help ensure your emails are reaching their inbox.
3. Optimise the send time
If you have a paid version of MailChimp there is a feature that allows MailChimp to optimise the send time of your emails. MailChimp has a tonne of data for every email on your list, including knowing what time of day subscribers are more likely to open and engage (clickthrough) on campaigns. Next time you send a campaign, instead of just 'sending', select 'schedule' – then select your delivery date and 'let MailChimp optimize send time for maximum engagement' and finish the scheduling.
4. Check your click map regularly
Does anyone else love looking at statistics the way I do?  MailChimp's click map shows you how your subscribers are interacting with your newsletter. Think of it like a rain radar with the weather forecast, but instead of rain it's subscriber clicks.
You can find this by going:
Reports
View reports (select the campaign you wish to see)
Links
Click map.
This is a highly useful way of seeing what parts of your e-newsletter your subscribers are clicking on and figuring out how to best encourage them to further engage with your newsletter in the future.
5. Button vs Hyperlink
We find that subscribers are at least twice as likely to click a button than a hyperlink. Take advantage of this and where you want people to click through to something, add a button. Make sure you are using buttons as calls to action regularly throughout your newsletter.
6. Consider your wording
Interaction is the name of the game.  You want to encourage people to open your newsletters.  With this in mind, it pays to put some thought into the subject line to encourage opens. Give them a teaser, offer something useful, or mention a competition or promotion.
For example, we've found that using 'How can you improve your business admin in 2018?' as our subject line, is far more effective than 'Admin Army Newsletter – January 2018'.
Bonus tip: If you're not sure what type of subject line works best for your subscribers, consider running an A/B Test.
You can select A/B Test when creating a campaign and choose a variable to test including the subject line, from name, content, or send time – for up to three combinations. If you've never run an A/B Test before, I'd recommend keeping it simple to start with and trying out two different subject lines.
MailChimp will help you determine which variable is the most successful through open rate, click rates or revenue (if you've linked MailChimp with your online store).  Then, you can take this valuable knowledge and use it to create more enticing content in the future.
7. Customise your thank you page
You want to encourage people to head back to your website as much as possible. Set up a thank you page on your website and update the MailChimp confirmation thank you page to link it to your website. That way, you're automatically sending people back to your website after they sign up, encouraging them to spend more time there!
To redirect to this link, go:
List
Sign up forms
Form Builder
Change 'forms and responses' dropdown to 'confirmation thank you page'
Paste thank you page link into 'instead of showing this thank you page, send subscribers to another URL' field
Save.
If you're still finding MailChimp overwhelming, get in touch us to have a chat about how one of our Virtual Assistants can help you.  We have a number of service packages, including e-newsletter packages that can be tailored to suit your unique requirements.