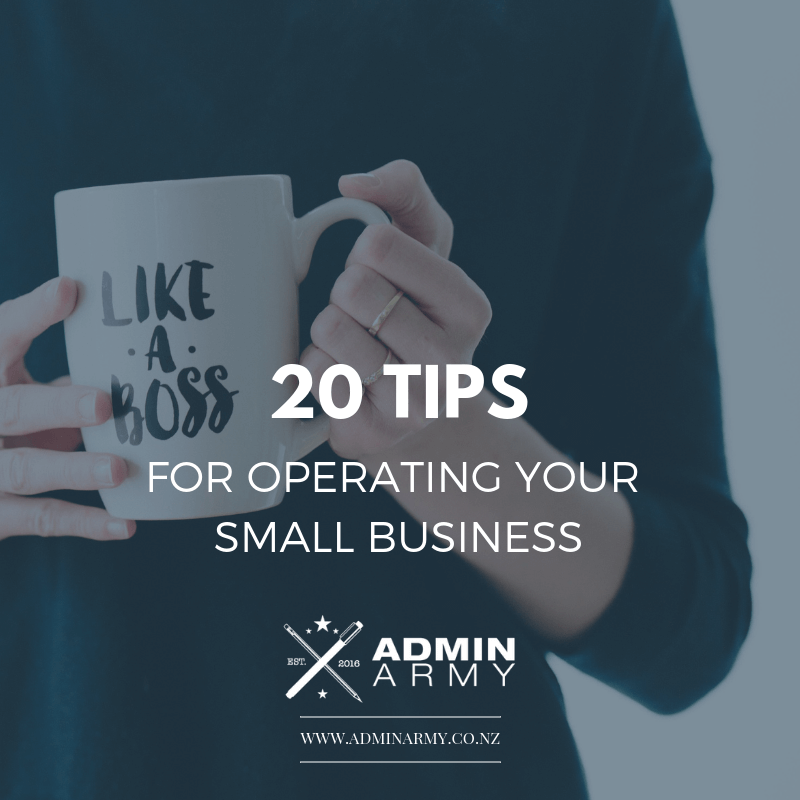 20 Tips For Running Your Small Business
How do you rate yourself when it comes to operating your small business?
Operating your small business is a massive undertaking.  So often, you second guess yourself and spend time filled with doubt about whether you can do it.
One of the best ways to combat this is to join a networking group and spend time around other small business owners.  Not only will you have the opportunity to pick up tips on how they operate their small businesses that you can apply to yours, but you will be surrounded be some of the most generous people when it comes to sharing their knowledge.
It is with thanks to some of those small business owners who have shared their knowledge that this blog has been possible.  Here's what they had to say when I asked for their tips:
Marketing
As your business grows, your marketing changes. It's not enough to have a basic website, you need to think about tactics and playing to your strengths.
Use every written contact with your clients or prospects as a chance to impress. Be friendly, helpful and provide value! Carefully plan what you are going to say to educate and build trust. Have an objective with each blog, email, or social media post that you write. Don't just throw random words on the page and hope for the best!
Gemma Knight – Gemma Knight Writes 
Strongly consider running Adwords ads for your own brand name. Why? Because your competitors could come through and swoop on your brand name (don't believe me? Go and search "Pizza Hut" and a Dominos ad will probably come up above theirs). Running ads on your own brand name helps protect your valuable asset and prevent competitors from stealing your hard work. Furthermore, advertising on Adwords for your own brand name is very cost effective and you'll generally only pay a small amount per click.
Sam Frost – Sam Frost: Digital Marketing Consultant
Be real with your customers, I have purchased from so many businesses because I've connected with the business owner themselves and love their story. It's also how you build real connections with others to expand your network (the whole Simon Sinek why thing is key to this).
Mandy Chamberlin – Veronica and Me Designs (and Network NZ)
Production
Think outside the box as you grow and expand.
Many people struggle to make their products fast enough to keep up with orders, or have identified that this is a barrier to business growth. Simple production jigs and machinery, customised to suit specific tasks, can increase output several fold. This frees you up for other things and/or allows you to take your business to the next level. It is an often-overlooked alternative to taking on extra staff etc.
Steve Cormack – Steve Cormack Mechanical Engineering
People
Your team (staff, contractors and suppliers) are so key to your business so remember to treat them well!
Always let your staff know how valued they are to YOU, and that they have a big part in making your business be successful every day.
Rhoda Green – Sewing Seams Clothing Alterations
Technology
Technology can be a bit of a beast, but there's one really important thing to remember that stands out above the rest:
Always have a backup for your data. Actively choose how often this backup will run based on how much you can afford to lose. Carry out regular restore tests on your backups – an untested backup is no backup at all. Where feasible, have a backup for your systems as well.
Andrew Bryson
Outsourcing
You may be shocked to discover that here at Admin Army, we're huge fans of outsourcing. It turns out lots of other business owners are too!
Don't be afraid to outsource something that you don't have time for or aren't good at. Sometimes something that would take hours might be done in minutes for someone else.
Rachel Dawson – Lots of: Cookie Baking Mixes
Play to your strengths in terms of where to spend your time and money. For example, I could have spent three weeks making my own website but realised that paying someone to create a much better product allowed me to focus on spreading my business message, networking etc and was a much better payoff in the long term. So my strength here was telling my story and spreading my name, not IT. Every business decision I make now is a decision about where my time/money is best spent.
Tracey Beard – Career Matters
Work to your strengths. For example, I'm good at making skincare. I'm terrible at accounting, graphic design, and photography. Therefore, I learn the basics of things (I did my first tax return and messed it up, then learnt to fix it – that kind of thing) so I know how to do some basics myself. Then, employ experts to do other necessary things for you; things that would take you years, and loads of money to learn. I have a website I can update myself too which really helps when your product line changes regularly.
Sharon Holmes – Totally Balmy
Don't waste time doing stuff you struggle with. Outsource it to someone who will do it in a fraction of the time and free you up to make money doing what you're good at.
Karen Platzer – African Encounters
Business Focus
When you own your own business, both life and the business are constantly changing. There is no one way to do things and you can always make changes to suit you.
Make sure you think about time three-dimensionally (as opposed to the 2 dimensional important/urgent matrix), i.e. will a particular task be important tomorrow? Is running around for 80 hours a week being "busy" really helping your business move forward or are you just flapping madly and achieving nothing by doing everything that seems important and urgent, but had no lasting impact on your business.
Drian Naude – Bitlab
Don't be afraid to put your business on hold if life demands it. We went through something similar with a newborn, family illness, terminal father, and our house was robbed. So business was paused for a good length of time and I'm glad at that decision until there was headspace to come back to it.
Laura Austin – Continental Cars
Set aside time to work on your business. It's easy to fill your weeks completing everything that needs to be done, but it's important to set aside uninterrupted time to plan, evaluate and grow your ideas.
Lainey Te Whatu – Rocket Fuel Design
First, stick to your values.  Second, don't compromise quality for quantity.  Lastly, side with clients who you admire as they will contribute to your reputation of how others see you (even if you keep them confidential).
Trish Hall – Hall Consulting
Be professional. If you make a mistake, own up to it and put it right, don't make an excuse!
Andrea Little – Banz Carewear
Book time for yourself.  Self-care is vital.
Phillipa Page – Well Within
Admin
Just because you got the basics set up well at the beginning, doesn't mean that's the end of admin! It's never-ending.
Plan and prioritise – plan everything well (which includes a Plan B) and prioritise – then stick to it. It's too easy to get distracted by 'other things'. There is SO much to do when you are a small business!
Beverley Caldwell – Quarter Turn Marketing
If your to-do list is full of small tasks that should be quick to do, but have been ignored because… Well, boring! These tasks can add to overwhelm when the list looks too big, so, I like to run a List Challenge. I have two hours to get as many, if not all of those pesky tasks done. Set the stopwatch. Make it official. There is, of course, a pre-determined reward at the end such as a coffee break out.
Debbie McQuillan – West Coast Brewery
Believe that you are successful and visualise your business flourishing every day. Get your processes in place up front to make life easier when you are busy and having time to do your admin is essential.
Hazel Thomas – Healing Nutrition
Be organised and find systems that work for you and help you plan your workload, don't over promise and under deliver. People will generally accept if something unexpectedly goes wrong and you're honest about it. However, if it's just bad planning it's not a great feeling to leave your customers with.
Mandy Chamberlin – Veronica and Me Designs (and Network NZ)
Thank you!
Another HUGE thank you to the small business owners in The Business Owners Hub with AJ Pipe, Network NZ and Venus Network, for generously sharing their tips with us.
Keen for more tips?