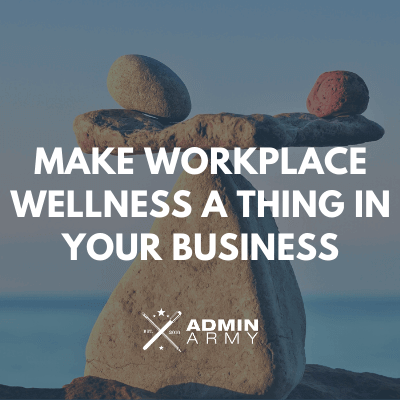 Make Workplace Wellness A Thing In Your Business
Do your employees enjoy being at work?
Most people spend more time at work than they do at home. So transforming the workplace into a positive, supportive, healthy environment can make a world of difference to their mindset and attitudes.
This is true of a home office too. Just because you don't physically go into an office building, does not mean that a home office should have a negative environment.
When your team feel as if your business genuinely cares about their wellbeing, they are more motivated, engaged, creative, and productive – which, of course, benefits the business.
If you are confused about what workplace wellness involves, or aren't sure quite how to get started, we have got the basics covered for you below.
Why Bother With Workplace Wellness?
Workplace wellness isn't just an excellent idea for your business. It's actually a legal requirement. At the most practical level, employers are required by law to ensure the health and safety of their employees or team members.
While the "safety" part is fairly straightforward, the "health" aspect can be more challenging to grasp. But it's equally vital.
Stressed, tired, overworked and under-rested people are more prone to illness and injury. They are far more likely to take sick days, and be less productive – even when not absent from work.
The Benefits Of Workplace Wellness
On the contrary, healthy team members are more likely to show up on time and do a better job, with improved energy and focus. Your business will spend less money covering sick leave or picking up the slack of tasks that haven't been completed.
In the long term, healthy, happy employees and contractors are also more loyal to your company. They are more likely to stick around, ensuring you retain experienced, hard-working staff and save costs on recruitment and training.
The reputation of your business is also at stake. Consumers are reluctant to support organisations that have a reputation for treating their people poorly. If word gets out that your business is a fantastic place to work, this strengthens your reputation amongst consumers. As a bonus, you will attract top talent.
Promoting Workplace Wellness
On top of the basics (ensuring your business is a safe environment free of discrimination, bullying, harassment, and hazards), there are many ways to encourage and support your team to be healthy and content.
Positive Presence
While you can't dictate how people choose to eat, exercise, or think, you can ensure there are plenty of opportunities – and incentives – for them to make positive choices.
One of the areas that can have the most significant impact is work-life balance. Is there anything your business can do to promote this? Perhaps you can offer flexible working hours, instigate a "no work after 5 pm policy," or consider the option for people to work from home on certain days.
Physical Spaces
If you have a physical office space, look at the workspace itself. Can you make it more peaceful, attractive, or ergonomically designed? Think standing desks, green spaces, or a quiet mindfulness/chillout area.
Offer healthy snack options in the cafeteria or breakroom, provide bike racks to encourage a cycling commute, or even organise fitness classes during breaks or after work.
If your team work remotely, encourage them to have a productive space that makes them feel good. You may want to contribute to this to ensure they have everything they need to work efficiently.
Model Good Behaviour
While every workplace has different capabilities and resources, there are endless ways to build a wellness culture. But it should first be modelled from the top down.
Instead of working through breaks and being the last one in front of your computer, show your team it's not only okay – but essential – to have a proper lunch break and take care of themselves.
Invest
There are a huge variety of wellness programs out there. Many ideas are entirely free to implement, and others might involve an investment. But, what better investment can you possibly make than in your people?
The Right People For The Job
Part of creating wellness in the workplace is ensuring that you have the right resources on hand. People who are overloaded with lots of time-consuming tasks are going to feel stressed, overworked and ultimately be unproductive. Outsourcing those tasks to a professional company can help relieve the pressure and allow your team to focus on their core responsibilities.
Here at Admin Army, we wage war on the jobs that you don't have the time, energy, or expertise to tackle in your business. That means all those admin and bookkeeping tasks.
Knowing that you have a trusted partner to take care of those tasks can boost morale in your workplace and create a sense of positive wellbeing.
So, if you are ready to create wellness at your workplace, get in touch with the team here at Admin Army today.