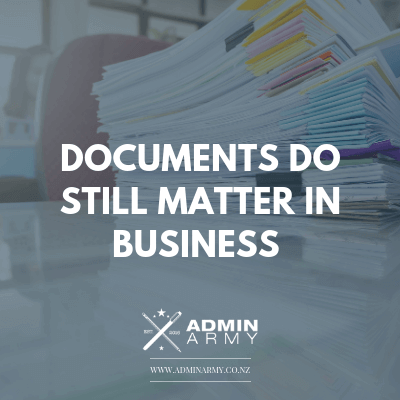 Documents Do Still Matter in Business – Here's Why
Most of the business world has gone digital. Paperless businesses are becoming the new normal, which is great for the trees, the planet, and for being organised!
But just because most of your documents are viewed on a screen rather than a piece of paper doesn't mean design and presentation have become less important.
In fact, design and functionality may be even more important now than it ever was before.
Why?
Because people have a higher expectation. Poorly created documents just don't cut it any more.
Let's look at why documents – even virtual ones – still matter to every business.
Branding Is Everything
Now more than ever, businesses need to prioritise their brand identity and ensure brand recognition. While branding requires a multi-faceted strategy, an essential part of that is consistency in quality and design.
Whether you are producing a financial report, an invoice, a company uniform or a Facebook ad, consistent branding will ensure your business is recognised, remembered, and eventually trusted.
Branding is more than just fonts and logos. It's also about being trustworthy and consistent in everything you do. Your advertising may be top-notch and your customer service outstanding. But, if you send out a rushed, poorly formatted, unprofessional document, then your reputation is going to be less than stellar.
First Impressions Matter
We all know the old saying, right? "You only get one chance to make a first impression."
Imagine if that first impression comes in the form of a proposal or introductory letter/email that looks unprofessional. Trust goes out the window, and potential clients will have you written off quick smart.
But on the flipside, beautifully designed documents put together with the appropriate formatting can help you attract (and retain) those new clients.
Communicate Clearly
Documents can range from reports and summaries to press releases and contracts. What all these have in common is that they communicate information. It's essential to organise and format this data succinctly and clearly, so everyone understands what's involved.
Invoices need to contain payment terms and conditions, and contracts should be easy to comprehend. A poorly formatted document can be confusing and difficult to understand. Getting this aspect right from the beginning avoids issues further down the line.
Paper Still Matters!
As much as many of us would like to do away with paper completely, there will be times when hard copies are needed. In some marketing circles, physical documents are making somewhat of a comeback. Research shows that many people prefer to read (and retain) more information from physical paper rather than a screen.
For the best return on investment for non-digital marketing, you will need professional design and formatting for your documents.
How To Create Professional Business Documents
Chances are that you don't have time to painstakingly make letterheads, format spreadsheets, make invoices look striking, and research the correct format for press releases or business proposals – among the hundreds of other documents you may need for your business.
There are online tools available that can make the job a bit easier. Canva is our favourite for its vast number of templates, designs and stock images.
However, the really smart move is to outsource these jobs to someone who knows how it all works and can create templates and documents to suit the needs of your business while keeping that all-important branding on point.
Virtual assistants know their documents inside and out. They can help you create quotes, invoices, presentations, reports, spreadsheets, and anything else imaginable, so you can spend your time focussing on the bigger picture.
We are document experts here at Admin Army, get in touch if you need help with creating professional and functional documents that send the right message about your business.