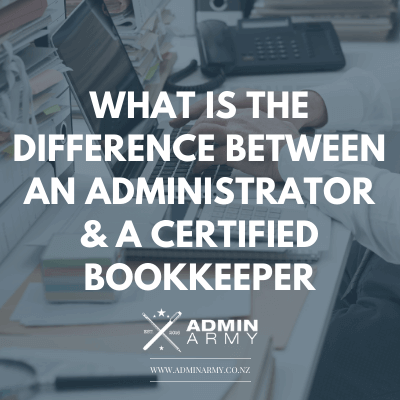 The Difference Between An Administrator And A Certified Bookkeeper
When you first started your business, did you think you would simply make money from what you love to do?
Makes sense right… put in the work and the money comes in for you to spend.
Easy, right?
Then reality kicks in.
Running a business can be exhilarating and rewarding. But any business owner will tell you that along with the big fun stuff, there is a whole lot of tedious, detail-oriented stuff to deal with.
These tasks are essential for keeping everything running smoothly. But they do take up a lot of time. That's why many businesses opt to hire administrators and bookkeepers.
While both roles are helpful, it's important to know the different strengths and responsibilities for each, so you can maximise efficiency and ensure the right people are doing the right jobs.
Here are the key differences between an administrator and a bookkeeper…
What Does An Administrator Do?
An administrator takes care of the dozens of tasks that need to be handled to keep everything running efficiently. This can be anything from essential paperwork, managing calendars, meetings and appointments, and ordering supplies, through to publishing blogs and posting social media content.
Their role depends on the needs of the business. That means they might work onsite or they may work remotely. The duties may include monitoring reception, email management, IT support, CRM management, client relations, and more.
While they may take responsibility for sending invoices or organising receipts, administrators generally don't have any formal training in bookkeeping or accounting practices.
If you find yourself too caught up with more administrative tasks and don't have time to focus on the bigger picture of your business, you would probably benefit from hiring an administrator. This could be an employee or a VA – a Virtual Assistant.
What Does A Bookkeeper Do?
A certified bookkeeper is someone who has had formal training and experience in handling business finances. They are qualified to manage things like payroll, invoicing, and are able to create and understand financial reports.
It is their job to keep accurate records of all financial incomings and outgoings for your business. They also ensure the books are up to date and liaise with your accountant where necessary.
Because their focus is exclusively on finances, bookkeepers have invested a significant amount of time and energy in honing their skills. You can be confident that they have a thorough understanding of all aspects of their role. This ranges from how to get the best out of your accounting software to any legal requirements related to the finances of your business.
Which Should I Hire?
Smaller businesses in the early phases often lump admin and bookkeeping tasks together, assigning the roles to one individual. While this may make sense and save money in the beginning, it's important to reassess this arrangement as your business grows.
Your finances are the backbone of your business and should be handled by someone with an in-depth knowledge of such systems. Although an administrator might be okay with managing the basics of data entry, a bookkeeper can provide expert advice and reduce the risk of potential mistakes.
If you are overloaded with administrative tasks and need some support, by all means, source an administrator to help you out.
However, rather than throwing the finances at the administrator to juggle, you would be better off hiring a bookkeeper as well. This role is easy to outsource. You only need to pay for the time the work takes to complete and can rest easy in the knowledge that a qualified professional has everything under control.
If you aren't sure whether you need an administrator or a bookkeeper, then get in touch with us here at Admin Army. Not only do we have a team of virtual administrators ready to handle your day to day tasks, but we also have a team of expert bookkeepers. So, no matter what you need, we can help you.
Did you know that we are the 2019 Institute of Certified Bookkeepers New Zealand Bookkeeping Business of the Year?  It doesn't get more expert than that!


Let us handle your administration or your bookkeeping (or both!) so that you can focus on the key tasks of your business. Get in touch with us today to see how we can wage war on your time-consuming tasks!