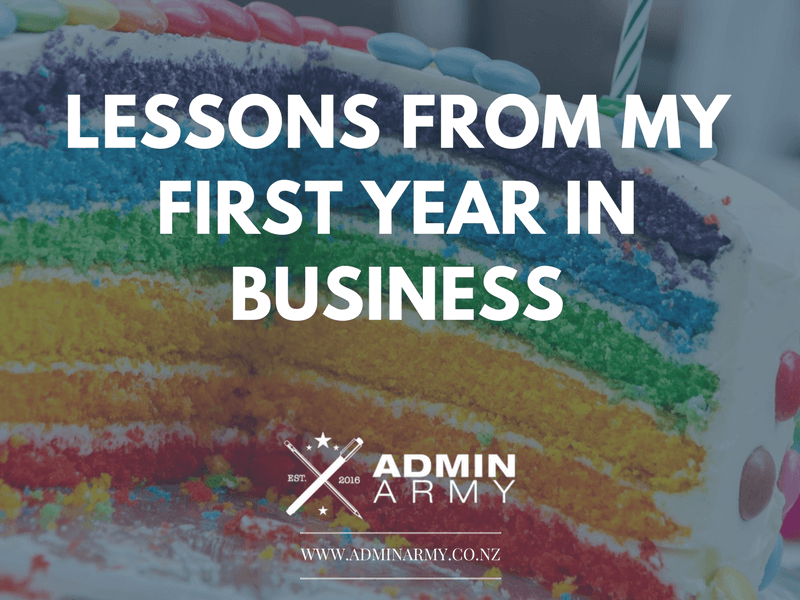 Four lessons from my first year in business
Running a business is hard work. Many small business owners I talk to have started their business with the intention of creating a lifestyle that works for them. The reality, especially in the first few years, is often much different, as getting the business up and running takes over all aspects of your life.
November 7th marks the one year anniversary of the incorporation of Admin Army as a company. I'm incredibly grateful to have made it through my first year in business, especially coming out the other side with more clarity than ever on Admin Army's mission to help small business owners with their admin burden. As I sit here reflecting on my first year in business, I would say my biggest takeaway is the sheer number of things I have learnt about business and also myself in the last 12 months. In no particular order, here are my top four business lessons:
1. You need to remunerate yourself
So firstly, let me preface this lesson, with a wholehearted 100% agreement that you should be reinvesting back into the business. However, that being said, some of the best advice I have received this year is that I need to be remunerating myself. You don't have to be paying yourself $100 per hour (although congratulations if you can), even though I'm pretty sure you deserve it, but you should be paying yourself something. Even if it's just $50 each week so that you can go out for lunch and take 90 minutes away from the pressures of running your business.
There is some pretty clever, well-established psychology behind this, and since I get to spend my life learning psychological theories by association [note: my husband, Rich, is a psychology student in his spare time], I thought I would share the love and tell you about this one. Way back in 1968 a couple of swag dudes called Lyman Porter and Edward Lawler developed a theory around job satisfaction in executives based on internal and external factors. Sure, you love what you do, so you're internally motivated, but to take your motivation to the next level, you need a tangible reward to help produce total job satisfaction.
 2. Practice what you preach
The whole premise of Admin Army's business is outsourcing tasks that you shouldn't be doing (for various reasons). However, I have a confession to make. I am not very good at doing this myself. I did not practice what I preach. This has changed! I won't go too far into it as there's another blog in the pipeline on my experience in outsourcing a couple of key areas of Admin Army's operations (my tasks, freeing me up to focus on client work and relationships). However, I can reaffirm that I am now, more than ever, a believer in outsourcing! I'm now less stressed knowing that experts are taking care of these tasks for me and it has also had the great side benefit of giving me an inside view of what Admin Army's clients experience when they are outsourcing for the first time.
3. Relationships are everything
There are two sides to this one; firstly, you never know how someone you meet might be able to impact your business – whether it's through a service they provide to or need from you, or whether they know someone who knows someone who may provide to or need a service from you. This has played out more times than I can count in the last 12 months and I would say is the entire premise of networking – building relationships in your community (be that locally, online or industry-specific).
Secondly, and I would class as more importantly, the relationships I have with my clients are everything. Not only have they purchased what I classify as the 'Irene Bennetts Experience' – that is, the expertise and level of service that I provide, when things don't go to plan, because I have built solid relationships with them, they know that they can trust what I am telling them and my solution to the issue.
4. Charge what you're worth
This lesson is fairly self-explanatory. It's really easy, especially when you're first starting out to charge less than the true value of your product or service. You want to make some sales, get the ball rolling, build a client base – there's a very compelling case to be made for some loss leaders at the beginning of your business journey. However, at a certain point in time, you need to get clear on your pricing and charge what you are worth. You might feel that the market doesn't value your product or service as they should, show them the value! It ties back to my earlier point about motivation – if you don't feel like you're charging what you're worth, then your motivation is going to drop, and you will lose momentum in your business.
So, there you have it, my top four lessons from my first year in business, I'd love to hear what lessons you have to share.
Completely unrelated to my business lessons, but beyond relevant to making it through my first twelve months in business, I would like to say thank you to each and every person that has impacted my business journey so far. Admin Army wouldn't be where it is today without the employees, clients, mentors, networking group members, suppliers, business contacts, and everyone else who has been involved or been in touch so far. Here's to smashing the next 12-months out of the park!